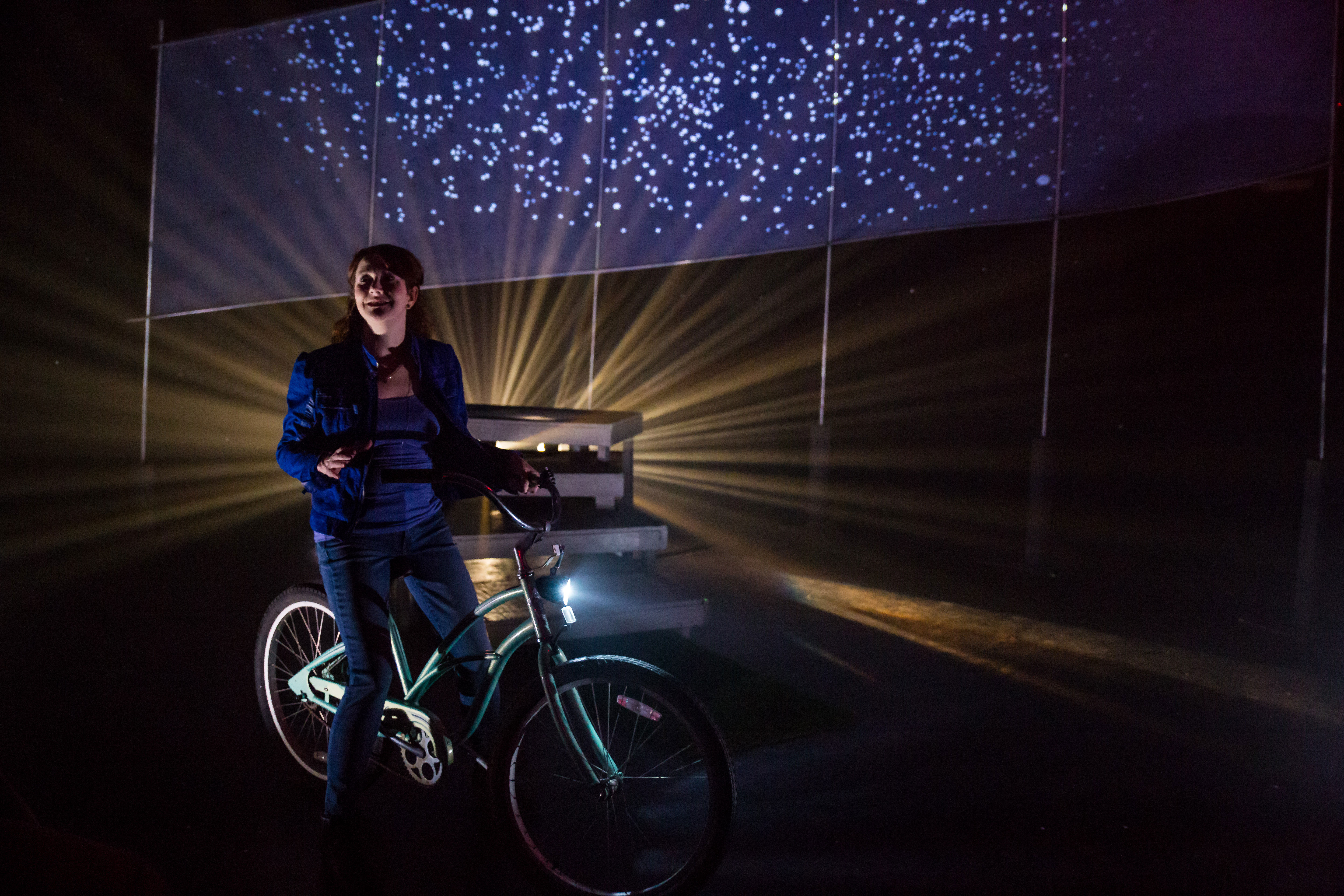 Claire Leverrier, a poet haunted by the death of her childhood crush, reveals the secrets of the universe using science, myth, and maybe a little bit of magic.
The Afterparty
 is a romance. Or is it a metaphor? Either way, Claire might never recover once a star steps down from the sky and invites her to a party
Produced by Shrewd Productions
Vortex Theatre — Austin, Texas
*WORLD PREMIERE
Creative Team
Director Liz Fisher
Playwright Reina Hardy
Scenic Design Ann Marie Gordon
Lighting Design Patrick Anthony
Costume Design Monica Pasut
Video Design Andrew McIntyre
Sound Design Nick Hart
Cast
Shannon Grounds as Claire
Ja'Michael Darnell as Devon / M
Rommel Sulit as Aristophanes
Trey Deason as Kepler
Valoneecia Tolbert as Henrietta
TRAILER FOR The Afterparty
PRAISE FOR THE AFTERPARTY
""The Afterparty" is the kind of play that only the Reina Hardy could create. Bursting with creativity, but wildly intelligent, its filled with magic and the music of the spheres. In the hands of Liz Fisher and the Shrewd Production crew, the experience becomes something otherworldly, a waking dream, a fleeting phantasmagoria that you won't want to end. It's a one-of-a-kind experience the like of which you're not likely to find again, so make sure you grab a seat, before it's too late.."
         — Ryan E. Johnson, Austin Arts Watch
"Presenting each story and movement piece more as a suggestion for plot connection than continuity, the pairing of the writing by Hardy and direction by Liz Fisher presents new puzzle pieces for the audience to build the bigger picture…Admiring the images created Fisher, this show is an East Austin cup of tea."
         — Amy Tarver, Broadway World
"Here is a massively creative team leading the Austin arts community into more and more original art and performance….She [Liz Fisher] is adept at filling the space and avoiding time gaps into which the audience may fall and become lost."
         — David Glen Robinson, Central Texas Live Theatre
"Where Hardy excels, however, is at creating moments in the text for visual and physical exploration, which director Liz Fisher choreographs beautifully."
         — Andrew J. Friedenthal, Austin American Statesman
"The cast in Shrewd Productions' world premiere performs well under Liz Fisher's direction, which keeps the actors in near-constant motion."
         — Elizabeth Cobbe, Austin Chronicle
Ghost Quartet: Director's Note
Since Ghost Quartet opens today (get those tickets now) I thought I'd share my director's note for this beautiful, haunting play. Enjoy!
Staging a Concept Album
Humans need stories. We can create a story out of nothing. We fill in the empty space with the necessary details for a narrative to emerge. Dave Malloy challenges us to do the same with Ghost Quartet, his self-professed  "live performance of a concept album." In the tradition of other brilliant concept albums, like The Rise and Fall of Ziggy Stardust and the Spiders from Mars or The Wall, the songs of this musical are linked together by a shared collection of ideas. By freeing ourselves from the constraints of a linear narrative, Malloy's music evokes emotional responses that, when pieced together, invite us to tell our own story. The genius of this piece is in its ability to serve as a rorschach test for its audiences – everyone sees something different. But the heart of Ghost Quartet remains the same for everyone: the struggle to connect with each other in the face of our perceived shortcomings and personal baggage. And there's no better way to process one's demons than to tell a story. We tell stories to help us connect to each other. We invite you to join in that connection tonight.