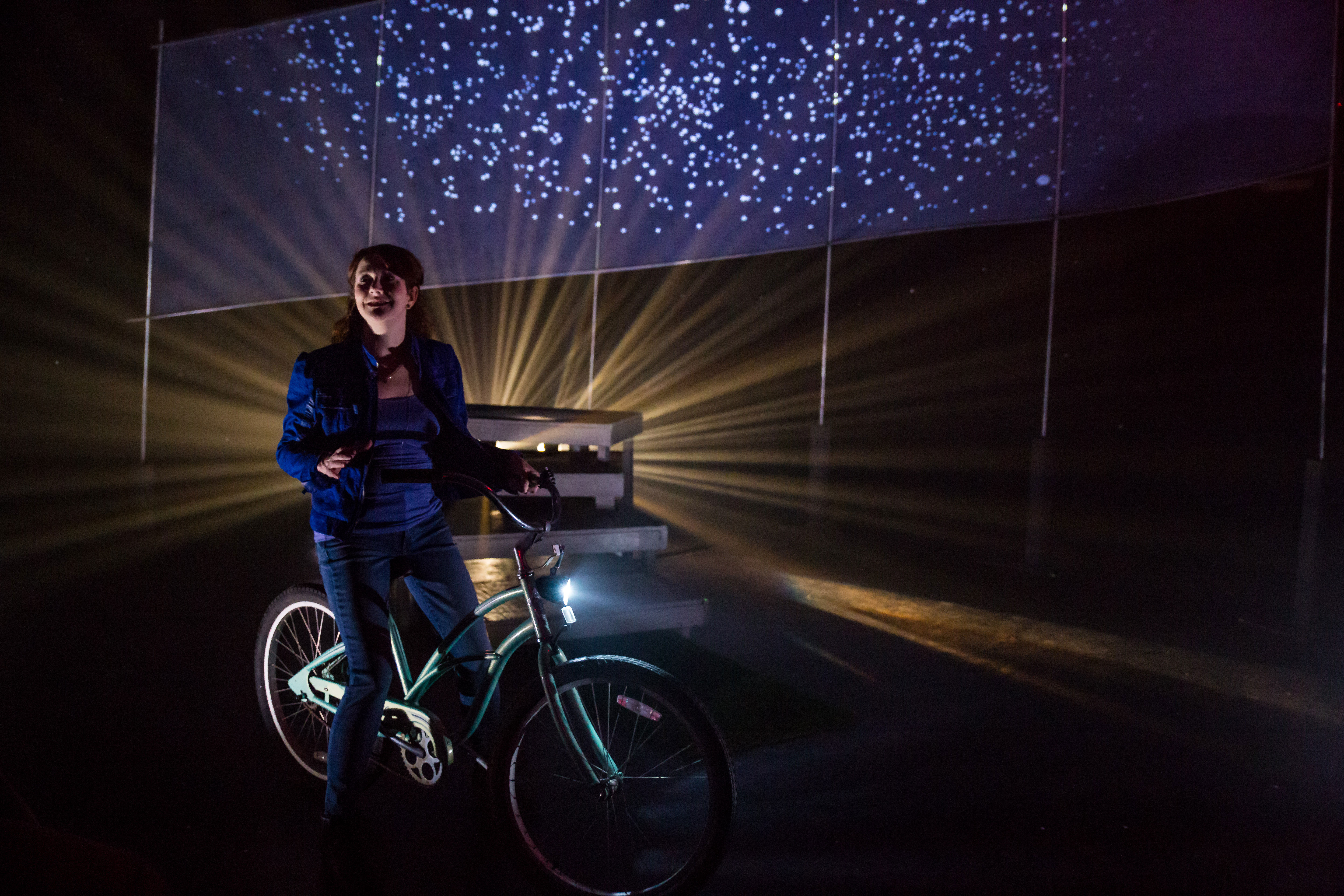 Claire Leverrier, a poet haunted by the death of her childhood crush, reveals the secrets of the universe using science, myth, and maybe a little bit of magic.
The Afterparty
 is a romance. Or is it a metaphor? Either way, Claire might never recover once a star steps down from the sky and invites her to a party
Produced by Shrewd Productions
Vortex Theatre — Austin, Texas
*WORLD PREMIERE
Creative Team
Director Liz Fisher
Playwright Reina Hardy
Scenic Design Ann Marie Gordon
Lighting Design Patrick Anthony
Costume Design Monica Pasut
Video Design Andrew McIntyre
Sound Design Nick Hart
Cast
Shannon Grounds as Claire
Ja'Michael Darnell as Devon / M
Rommel Sulit as Aristophanes
Trey Deason as Kepler
Valoneecia Tolbert as Henrietta
TRAILER FOR The Afterparty
PRAISE FOR THE AFTERPARTY
""The Afterparty" is the kind of play that only the Reina Hardy could create. Bursting with creativity, but wildly intelligent, its filled with magic and the music of the spheres. In the hands of Liz Fisher and the Shrewd Production crew, the experience becomes something otherworldly, a waking dream, a fleeting phantasmagoria that you won't want to end. It's a one-of-a-kind experience the like of which you're not likely to find again, so make sure you grab a seat, before it's too late.."
         — Ryan E. Johnson, Austin Arts Watch
"Presenting each story and movement piece more as a suggestion for plot connection than continuity, the pairing of the writing by Hardy and direction by Liz Fisher presents new puzzle pieces for the audience to build the bigger picture…Admiring the images created Fisher, this show is an East Austin cup of tea."
         — Amy Tarver, Broadway World
"Here is a massively creative team leading the Austin arts community into more and more original art and performance….She [Liz Fisher] is adept at filling the space and avoiding time gaps into which the audience may fall and become lost."
         — David Glen Robinson, Central Texas Live Theatre
"Where Hardy excels, however, is at creating moments in the text for visual and physical exploration, which director Liz Fisher choreographs beautifully."
         — Andrew J. Friedenthal, Austin American Statesman
"The cast in Shrewd Productions' world premiere performs well under Liz Fisher's direction, which keeps the actors in near-constant motion."
         — Elizabeth Cobbe, Austin Chronicle
Tonight is opening night of Marisol. These students are tremendous. Their hard work and dedication is to be celebrated. They have welcomed and challenged me in ways that will reverberate long past our closing night. I am so proud of what we have achieved. To honor the incredible spirit of collaboration that guided this team, I wanted to share my director's note. Thank you, St. Ed's community.
In the dark times

Will there also be singing?

Yes, there will be singing.

About the dark times.

—Bertolt Brecht
Tonight's performance won't offer you an escape from the growing darkness in society. Our world is the manifestation that Rivera presciently described as he wrote the first drafts of Marisol in the early 1990s. Every day is filled with new news of climate disasters, poverty epidemics, racial violence, and a global crisis of faith. It is hard to remain optimistic in these dark times. And yet, in this epic tale, we watch a young woman set out on a hero[ine]'s journey towards love. She faces extreme incidents of violence, hatred, and horror. Nevertheless, she persists. So why present a play that extols the worst parts of humanity at this moment in time? Because we must. 
As the world grows darker, we need stories that can help us understand and ultimately conquer that darkness. We need a place where we can witness, unpack, and process these destructive impulses. Theater creates a space where we can connect over these tasks, while also validating each other, letting others know that you aren't alone. You can be seen, come home, and find love – no matter what the world throws at you. Marisol reminds us that fighting for hope is worth any sacrifice. And while tonight's performance won't solve any of the big problems that Rivera broaches, I hope it energizes you to head back into your personal struggles and fight for what's right.