Writing Retreats and Podcasts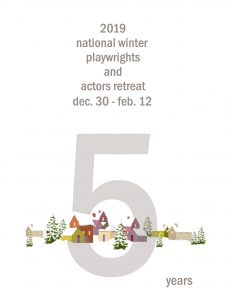 Three years ago, I had the good fortune to spend a week in the beautiful town of Creede, working on a piece that would eventually become Presence, Risk, Acceptance (a treasured collaboration with Kirk Lynn and Robert Matney). Now I'm back, celebrating the fifth anniversary of the National Winter Playwrights Retreat with another script that is in need of development, currently titled Ruby Writes Good.
But aside from writing and rewriting, I hung out Amanda Bermudez and learned more about her exciting project, The American Playbook. This podcast celebrates playwrights, presenting interviews and readings of their new plays. Amanda brought together a fabulous cast of actors to read a favorite short play of mine, Closet Monsters. Check it out here and be sure to subscribe so you don't miss out on all of the other incredible pieces and artists.