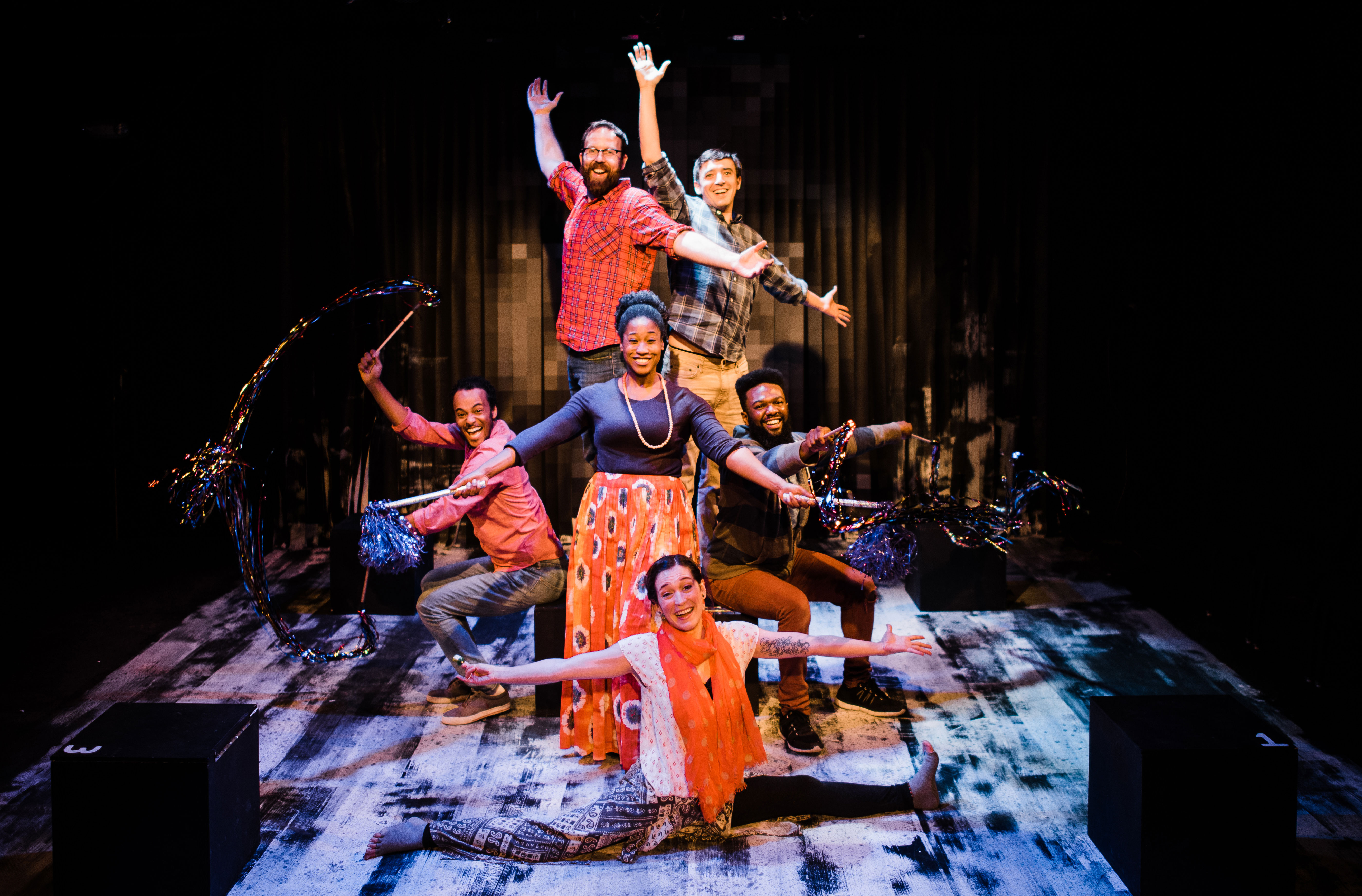 WE ARE PROUD TO PRESENT...
An idealistic theatre ensemble comprised of 3 black actors and 3 white actors rehearses a devised piece that tells the little-known story of what is regarded as the first genocide of the 20th century perpetrated by the German Empire upon the Herero and Nama indigenous people of German Southwest Africa (now Namibia). But as the ensemble seeks to find a unified voice and common ground, their own cultural proclivities and prejudices threaten to boil over and redirect their idealism into the all-too common territory of racial tension. Hilarious and audacious in its presentation, audiences should expect to laugh so hard it will hurt, but for many, probably uncomfortably so. 
We Are Proud to Present a Presentation About the Herero of Namibia, Formerly Known as Southwest Africa, From the German Sudwestafrika, Between the Years 1884–1915
 is an unforgettable night of theater.
Produced by Street Corner Arts
Hyde Park Theatre — Austin, Texas
Creative Team
Director Liz Fisher
Assistant Director / Dramaturg Indiia Wilmott
Scenic Design Chris Conard
Lighting Design Megan Reilly
Costume / Props Design Aaron Flynn
Sound Design Nick Hart
Cast
Judd Farris as Actor 1
Matrex Kilgore as Actor 2
Zac Carr as Actor 3
Jeremy Rashad Brown as Actor 4
Amelia Turner as Actor 5
Valoneecia Tolbert as Actor 6
Click on image to watch video from We Are Proud To Present 
PRAISE FOR WE ARE PROUD TO PRESENT
"This production is more than exceptional theatre; it asks thought-provoking questions about authority, perspective, and intention…For those who only check reviews for a quick verdict, here it is: winner. Street Corner Arts' production of Jackie Sibblies Drury's play-with-the-very-long-name has some of the best ensemble work and direction (by Liz Fisher) that you'll see in Austin. "
         — Elizabeth Cobbe, Austin Chronicle
"This production and these performances shook me so deeply that I woke up suddenly after only two hours of sleep that same night, realizing that my mind and emotions had been in struggle in my subconscious , trying to formalize the very opening paragraphs written above. I left words scrawled and almost illegible in a notebook on my desk, where I've been avoiding them now for the last five days. The hurt hasn't yet healed, but We Are Proud to Present is initially so entertaining and then such a conflagration of our unconscious assumptions that it is vital, necessary and ultimately inescapable theatre. "
         — Michael Meigs, Central Texas Live Theatre
"WE ARE PROUD TO PRESENT… is a truly transformative experience both teaching audience members, while giving voice to others about the darker periods of human history. "
         — Amy Tarver, BroadwayWorld.com
WINNER: Austin Critics Table Award for Outstanding Production
WINNER: Austin Critics Table Award for Outstanding Direction
WINNER: Austin Critics Table Award for Outstanding Performance by an Ensemble
WINNER: B. Iden Payne Award for Outstanding Production of a Drama
WINNER: B. Iden Payne Award for Outstanding Direction of a Drama
WINNER: B. Iden Payne Award for Outstanding Small Cast Performance of Scripted Theatre
Nomination: B. Iden Payne Award for Outstanding Stage Movement
Selected as one of the 2018 Top 10 Treasures in Theater by Robert Faires from the Austin Chronicle