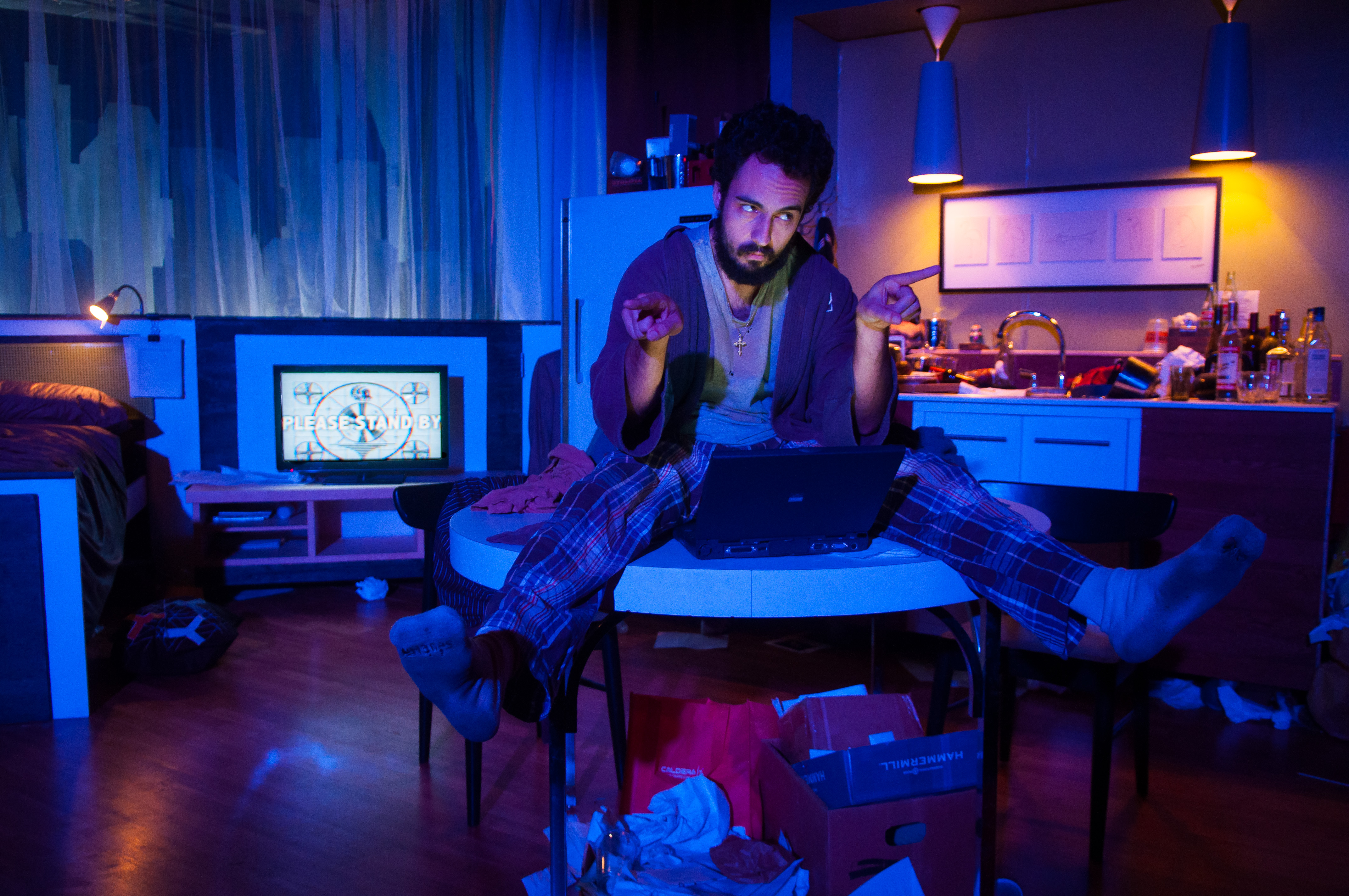 VODKA, FUCKING, AND TELEVSION
In the cramped confines of a downtown Moscow apartment, a poet contemplates his stalled career and the road blocks keeping him from greatness. 
Vodka, Fucking, and Television
 is a dark comedy about a struggling writer, and the vices holding him back. Widely regarded as one of Russia's greatest living playwrights, Maksym Kurochkin gives this plot a surprising twist: The vices become personified, and each gets a chance to justify their presence in the hero's life, or get the boot. Inspired by artistic malaise,
Vodka, Fucking and Television
is like the Cohen Brothers'
Barton
Fink
meets Sartre's
No Exit
. There's no question, one of them has to go. But which will it be?
Produced by Breaking String Theater
Hyde Park Theatre — Austin, Texas
*PROFESSIONAL AMERICAN/ ENGLISH TRANSLATION PREMIERE 
Creative Team
Director Liz Fisher
Playwright Maksym Kurochkin
Translator John J. Hanlon
Scenic Design Ia Enstera
Lighting Design Steven Shirey
Costume Design Glenda Barnes
Video / Sound Design Lowell Bartholomee
Cast
Noel Gaulin as Hero
Jude Hickey as Television
Joey Hood as Vodka
Adriene Mishler as Fucking
TRAILER FOR Vodka, Fucking, and Television
PRAISE FOR VODKA, FUCKING, AND TELEVISION
"What follows is a power struggle of shifting alliances, a courtroom drama-style series of persuasive arguments…It's a funny, fast-paced hour of performance, aided strongly by the chemistry of the show's likeable cast and Liz Fisher's strong directorial choices."
         — Dan Solomon, Austin Chronicle
"I'm glad to say that with its witty script, skillful direction, and extraordinary cast, Vodka, F***ing and Television…will easily win you over."
         — Jeff Davis, BroadwayWorld.com
"We should applaud with ongoing ticket purchases this new intercontinental theatre connection. Breaking String Theater Company has again produced a shining example of new Russian plays. Continue to do so, Breaking String, we welcome your efforts."
         — David Glen Robinson, Central Texas Live Theatre
Profile on Vodka, Fucking, and Television in Central Texas Live Theater
A Director in Austin Discovers Russian Drama: Interview with Liz Fisher
Originally published by John Freedman in the Theater blog of The Moscow Times
WINNER: B. Iden Payne Award for Outstanding Media Design
WINNER: Austin Critics Table Award for Video Design
WINNER: Austin Critics Table Award for Acting in a Leading Role (Noel Gaulin)
Nomination: B. Iden Payne Award for Outstanding Production of a Comedy
Nomination: Austin Critics Table Award for Acting in a Supporting Role (Jude Hickey)