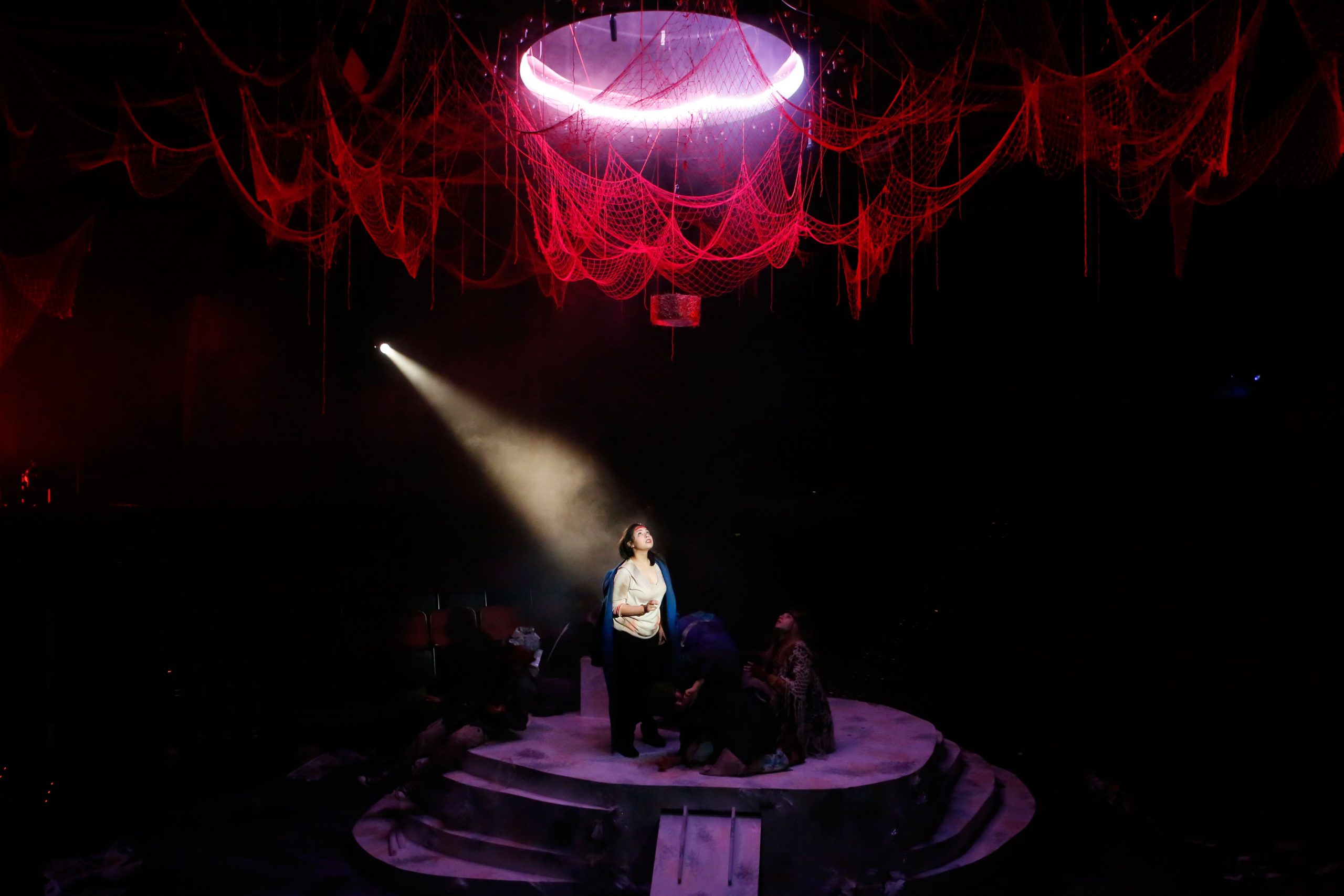 Marisol Perez commutes from her apartment in the Bronx to her successful copy editor job with a Manhattan publisher. But something is amiss: apples are extinct, milk tastes like salt, and the moon has been missing for nine months. Abandoned by her guardian angel, 
Marisol ventures into the streets to find her best friend. 
Rivera's apocalyptic urban fantasy is a cautionary tale, reminding us that rekindling our compassion for our fellow man may be the only way to save the universe. Winner of the 1993 Obie Award.
Produced by St. Edward's University
Mary Moody Northen Theatre — Austin, Texas
Creative Team
Director Liz Fisher
Playwright José Rivera
Assistant Director Johnny Joe Trillayes
Scenic Design Hailey J. Strader
Lighting Design Miriam Alexander
Costume Design Susan Branch Towne
Make-up / Hair Design Ana Jaime
Sound Design K. Eliot Haynes
Props Design Leilah Stewart
Fight Choreography Toby Minor
Cast
Abbygail Cortinas as Marisol
Toby Minor as Lenny
Taylor Hildebrand as June
Sierra Sterling as Angel
Sophia Utria as Young Woman
Jackson Pant as Man with Golf Club / Ensemble
Andrew Mueller as Man with Ice Cream / Ensemble
Tyler Layton as Woman with Furs / Ensemble
Weston Smith as Man with Scar Tissue / Ensemble
Nicole Davis as Voice 1 / Ensemble
Victoria Borgstedte as Voice 2 / Ensemble
Jaime Perez as Voice 3 / Ensemble
"MARISOL is a special brand of tea. A few elements that stand out in St. Edwards staging of this play are the abstract and avante-garde use of actors, set design and lighting. These elements continue to work together from scene to scene, threading the play together as a whole. Something as simple as a spotlight and falling dirt becomes beautiful, and then returns later in a more morbid meaning. The flipping of the staging elements from a positive meaning in one scene, to something sinister later, or visa versa, is the level of detail this type of story needs to combine all the elements of good and evil. "
         — Amy Tarver, BroadwayWorld.com