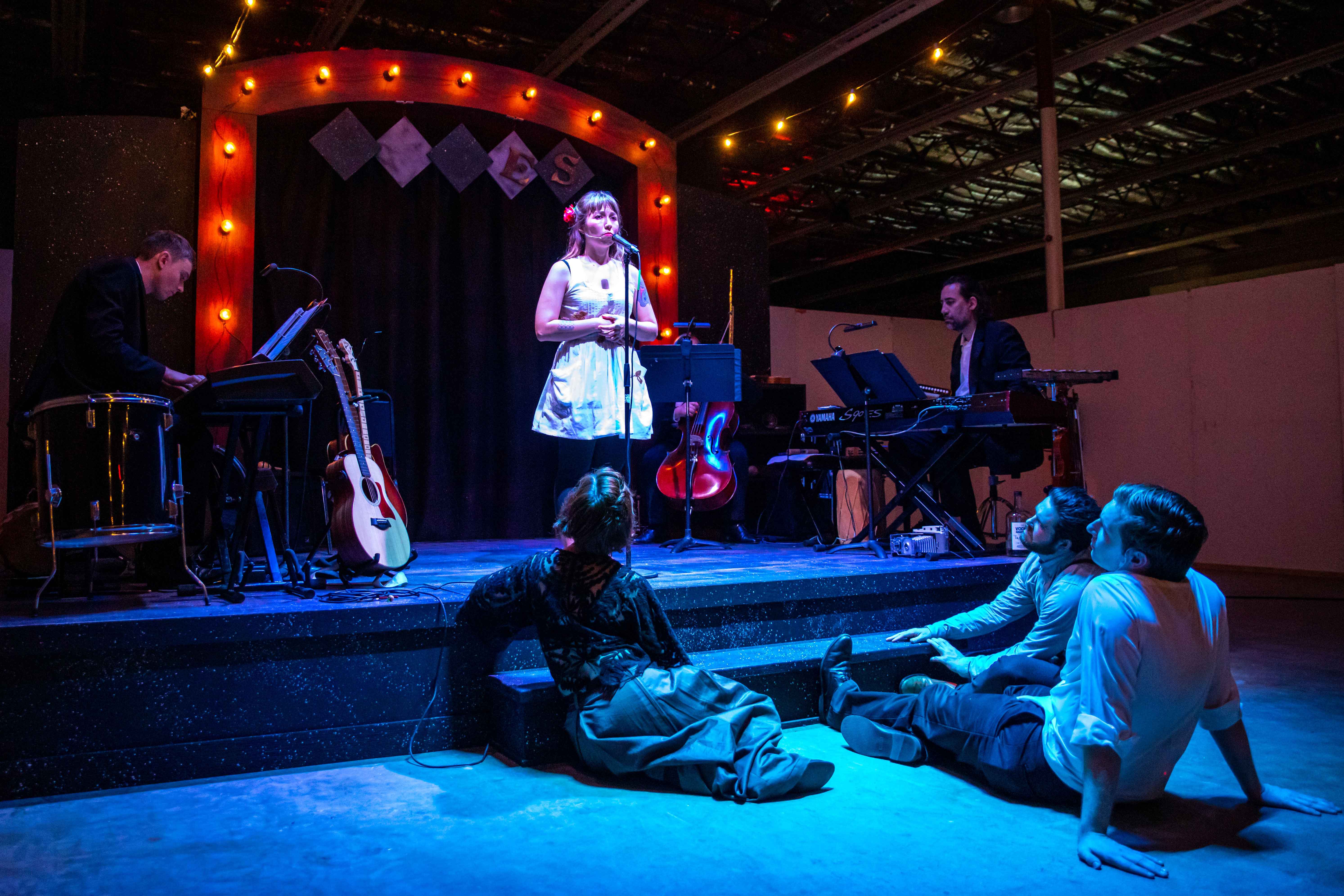 GHOST QUARTET
---
Music, Lyrics, and Text by Dave Malloy
Ghost Quartet
is a happily haunted musical about love, death, and whisky. We listen in as four friends drink and spin yarns about two fairy tale sisters, a tree house astronomer and a lazy evil bear, a subway tragedy and the ghost of Thelonious Monk. As the evening winds on and glasses empty, we realize the narrative threads are interweaving into a centuries-long tale of encounters with the otherworldly.
Ghost Quartet
seductively pulls at our desire to believe in ghosts and subtly asks us why these stories continue to endure and multiply in the human imagination.
Composer Dave Malloy, Tony-nominated createor of the Broadway hit "Natasha, Pierre and the Great Comet of 1812″, draws inspiration from a number of spooky stories – Snow White and Rose Red, Edgar Allan Poe's "Fall of the House of Usher", Arabian Nights and others – as well as a variety of musical styles, including gospel, folk ballads, honky-tonk anthems of heartbreak, electropop, doo-wop and jazz.
Produced by Penfold Theatre Company
Blue Genie Art Bazaar & The Driskill Hotel — Austin, Texas
Creative Team
Director Liz Fisher
Lyricist / Playwright / Composer Dave Malloy
Music Director Austin Kimble
Musicians Austin Kimble, Megan Pritchett, Stephen Mansolo
Scenic Design / Tech Directors Patrick & Holly Crowley 
Lighting Design Megan Reilly
Costume Design Aaron Flynn
Sound Design Lowell Bartholomee
Cast
Megan Tabaque as Brittain
Sarah Marie Curry as Gelsey
Shane Satterfield as Dave
Nathan Daniel Ford as Brent
Click on image to watch video from Ghost Quartet
"the way Fisher moves her actors around the stage, and the performances she's finessed from them, the way they and the live band (led by keyboard man Austin Kimble) interact musically and kinetically – tell you what, Fisher is some kind of directing savant crossed with a chess master."
         — Wayne Alan Brenner, Austin Chronicle
Preview on KUT (NPR affiliate):